Toastmasters ist nicht nur ein unheimlich toller Weg zur Weiterbildung beim Public Speaking. In netter und sicherer Atmosphäre könnt ihr eure Redekunst immer weiter verbessern. Daneben ist Toastmasters als Organisation aber auch eine Weiterbildungsmaschine für viele andere berufliche und private Bereiche: Führung, Meeting-Organisation und Durchführung, Strukturierung, Marketing, Kundenbetreuung uvm. Und der Hammer dabei: diese Weiterbildungen werden regelmäßig von anderen Toastmastern durchgeführt, die in Ihrem Beruf professionelle Trainer, Coaches und Berater in diesen Bereichen sind. Im November und Dezember gibt es die folgenden Online-Seminare.

A Powerful Preparation Process with John Zimmer
Wann: 10. April, 16 Uhr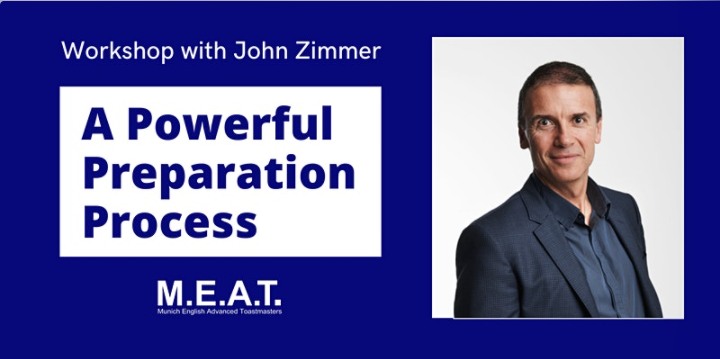 Wer: John Zimmer
Sponsoring Club: M.E.A.T - Munich English Advanced Toastmasters
It has been said that if you fail to prepare, prepare to fail. Good preparation is the foundation of any successful speech or presentation.
In this workshop, John will share with us a simple, but powerful 4-step exercise that he goes through every time he prepares for a speech or presentation, and it is something that you can use for your talks.
The workshop will be interactive.
>>>Please come with a specific speech or presentation in mind because you will use it as the basis for the exercise that John will lead us through.
Organization fee for our club business: 9,99€
This Workshop is for Toastmaster club members only.
Klicke hier um dich anzumelden
---
Feedbackworkshop (Deutsch)
Wann: 14. April, 18:57 Uhr
Wer: Friederike Galland
Sponsoring Club: Augsburg Toastmasters
Fällt es dir schwer, erfahrenen Rednern Feedback zu geben? Träumst du davon, um Feedback gebeten zu werden - weil du so gut darin bist?
Dann komm zu Friederike's Workshop.
Hier werden deine geheimsten Wünsche in Erfüllung gehen!
Hier klicken um dich anzumelden
---
Think Before You Panic: Critical Thinking in Daily Life
When: 24th April, 4 pm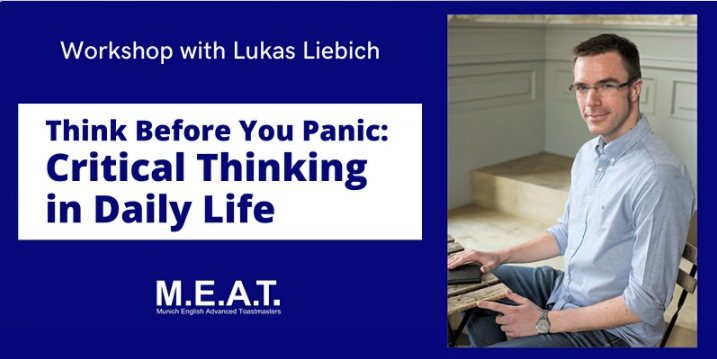 Who: Lukas Liebich, DTM
Sponsoring Club: M.E.A.T - Munich English Advanced Toastmasters
Who takes out the trash when you say "We need to take out a trash?"
How can you improve safety by being very particular about the color of the sweets you want? And what should you do when two suitors ask you out for a date - both for next Friday?
Join the "Think Before You Panic" workshop to find out - and improve the way you make decisions!
This workshop will be online and interactive
Organization fee: 9.99 €
This Workshop is only for Club members of Toastmasters International.
Klicke hier um dich anzumelden
---
Using Traditional Folktales in Modern Storytelling
When: 27th April, 7 pm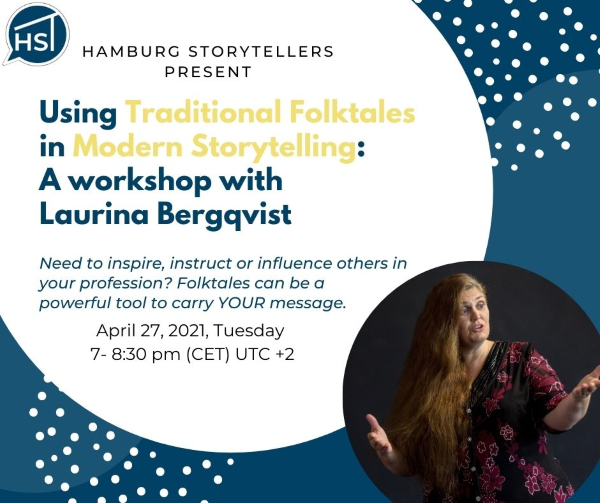 Who: Laurina Bergqvist, DTM
Sponsoring Club: Hamburg Storytellers
Need to inspire, instruct, or influence others in your profession? Folktales can be a powerful tool to carry YOUR message.
---
Weitere Veranstaltungen
Auf der Website von Toastmasters International findet ihr immer die aktuellen Kurse und Events
Bildnachweis: Photo by Chris Montgomery on Unsplash